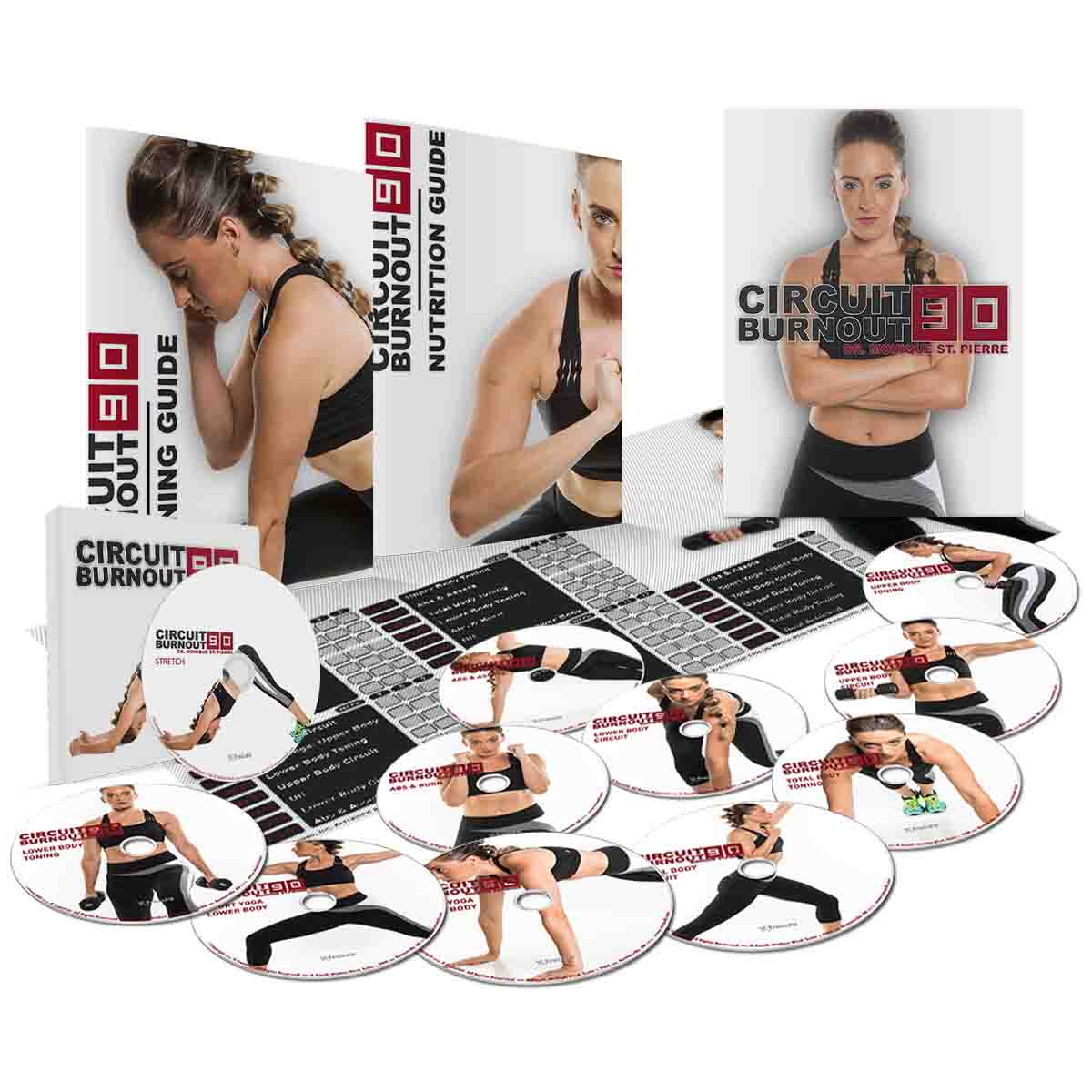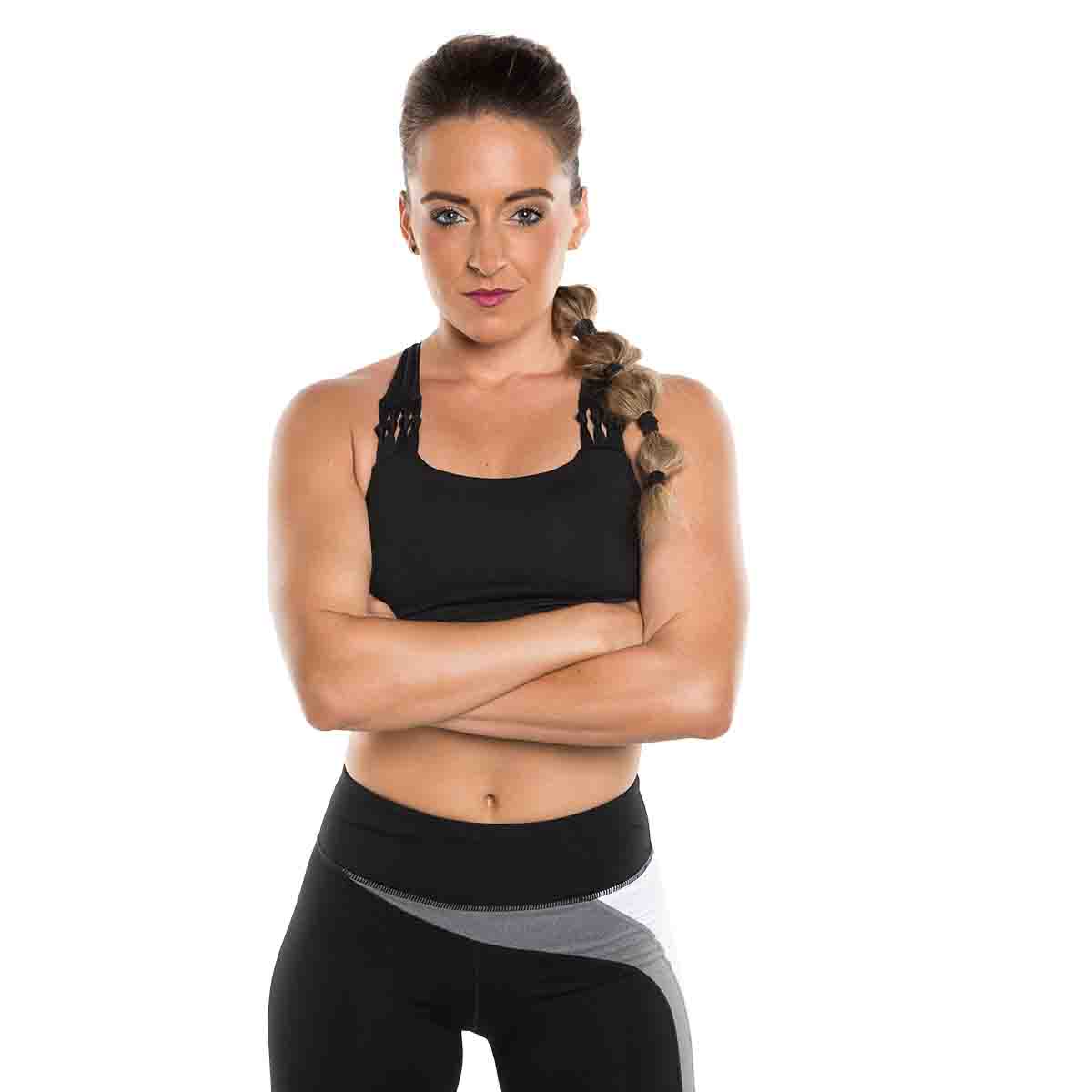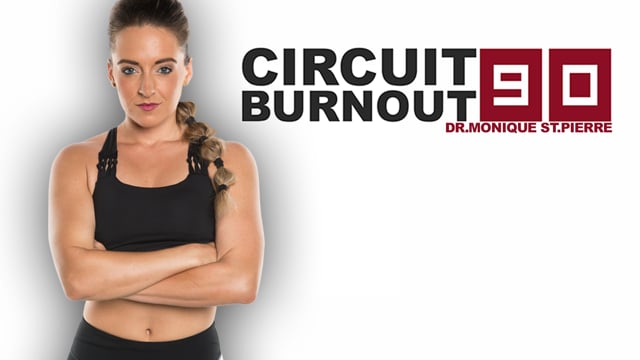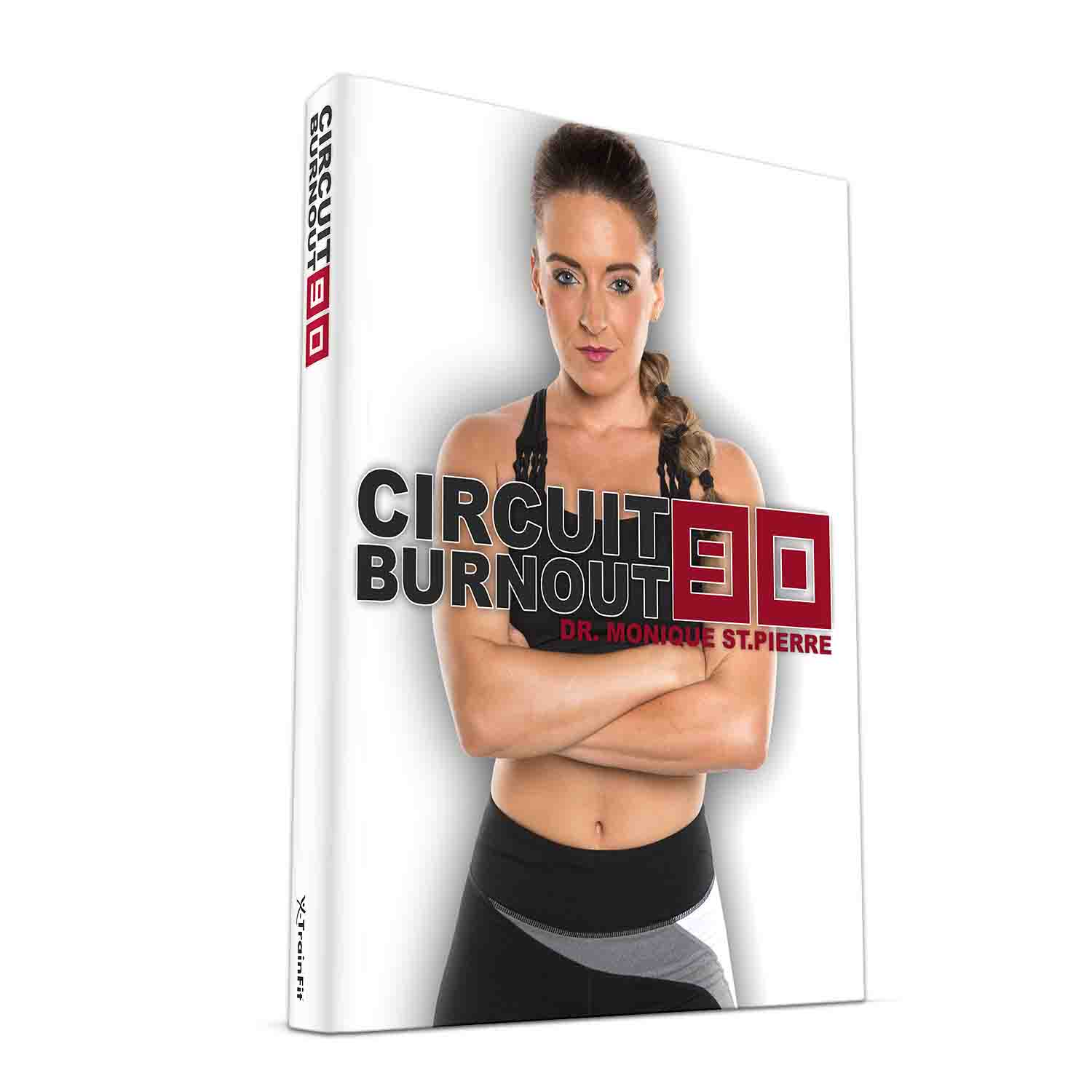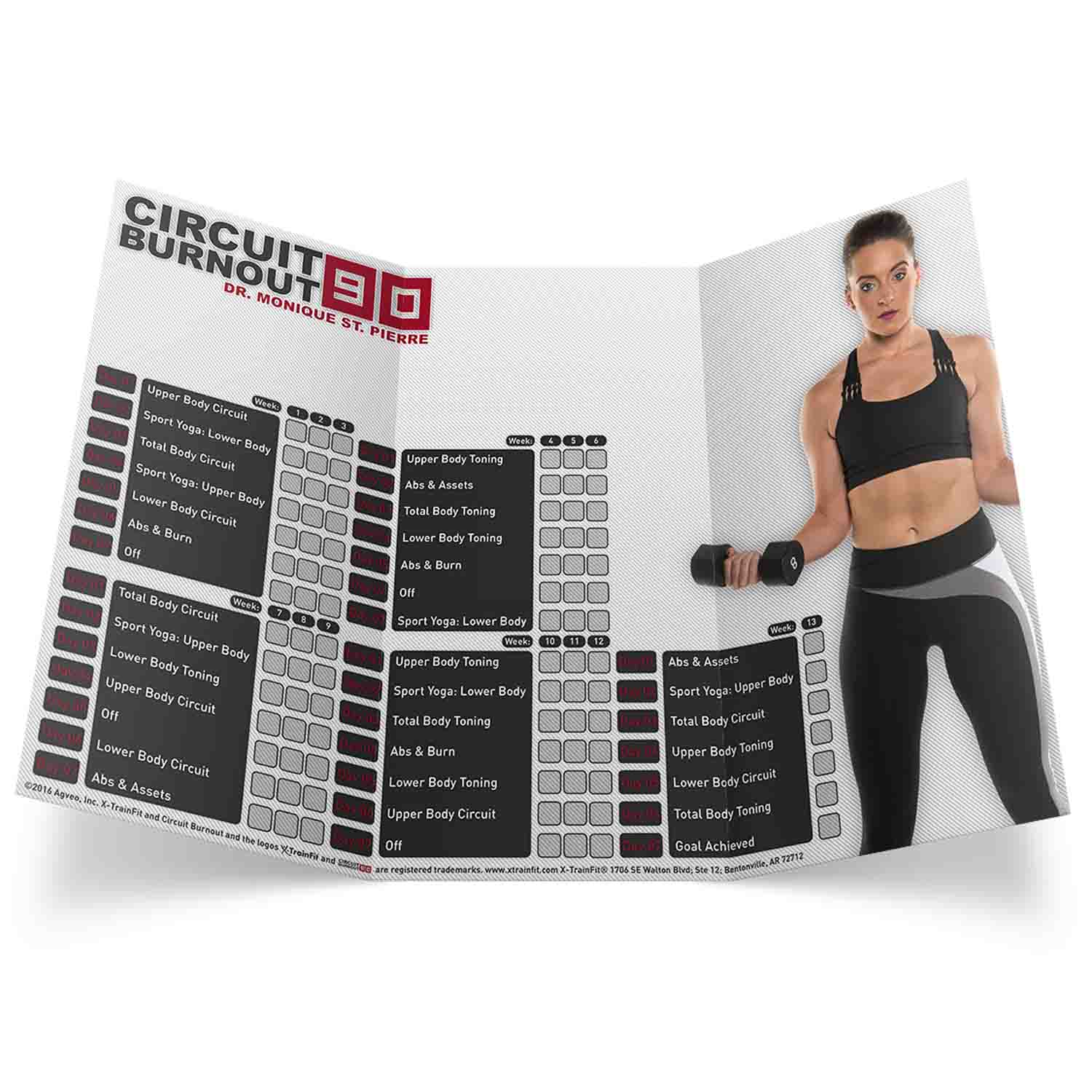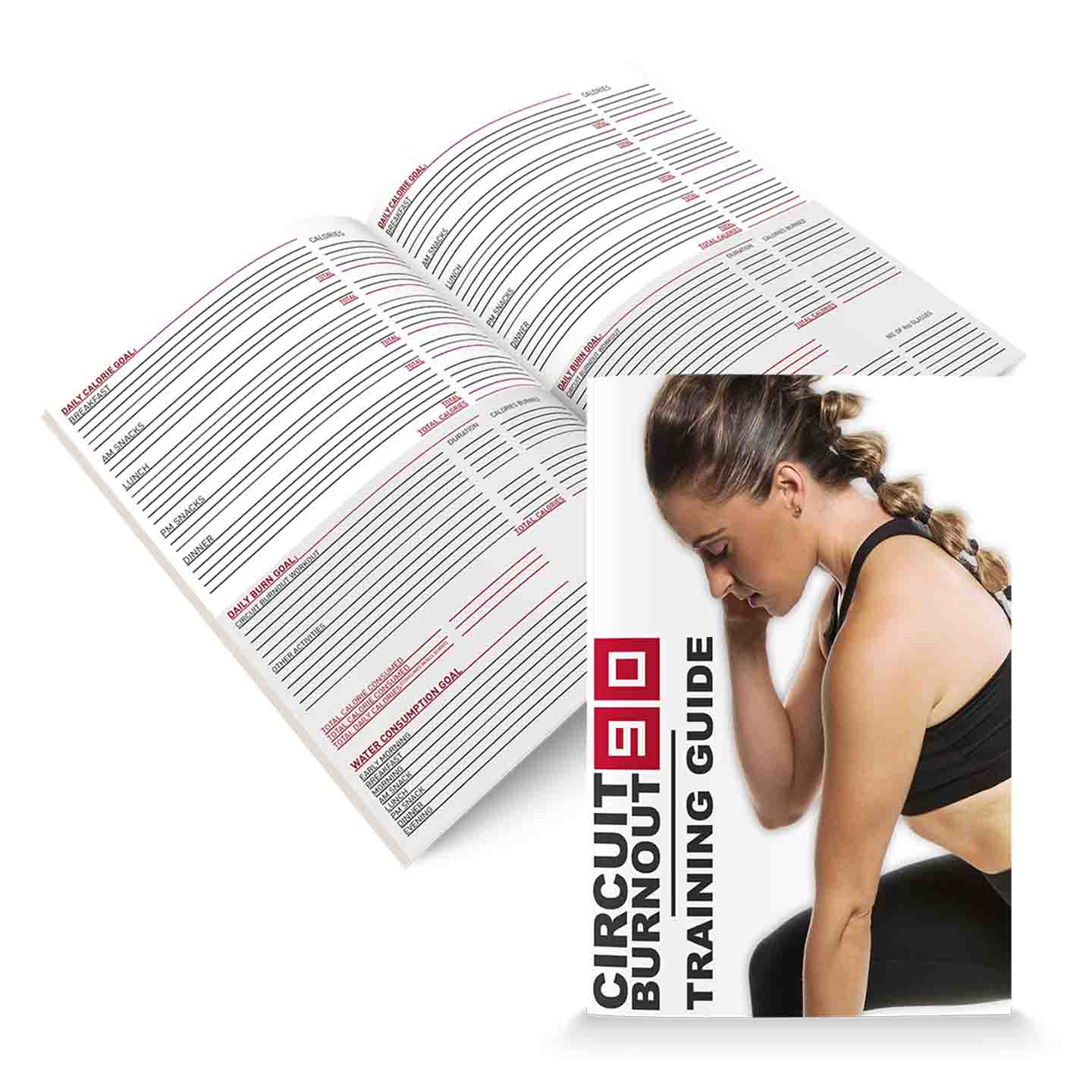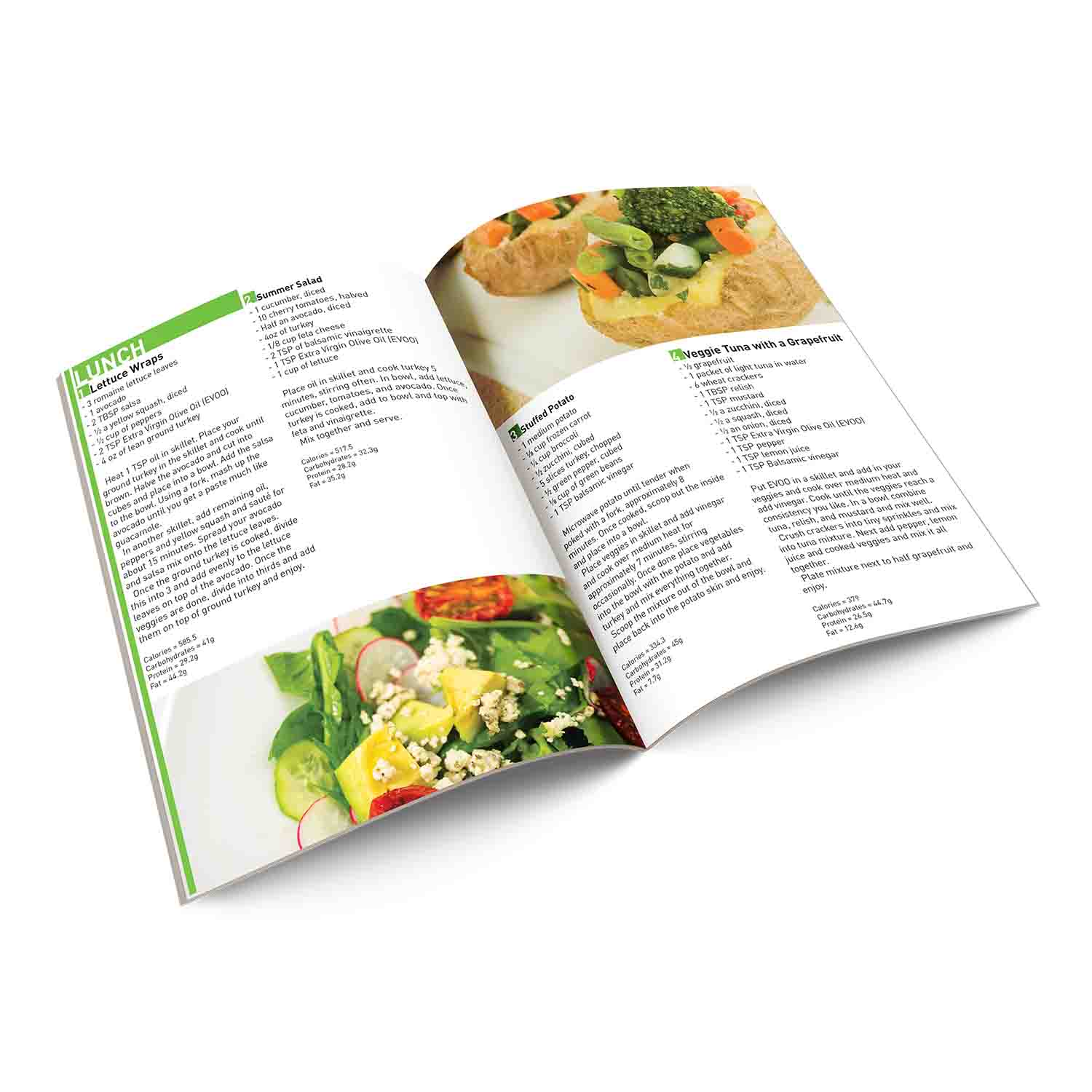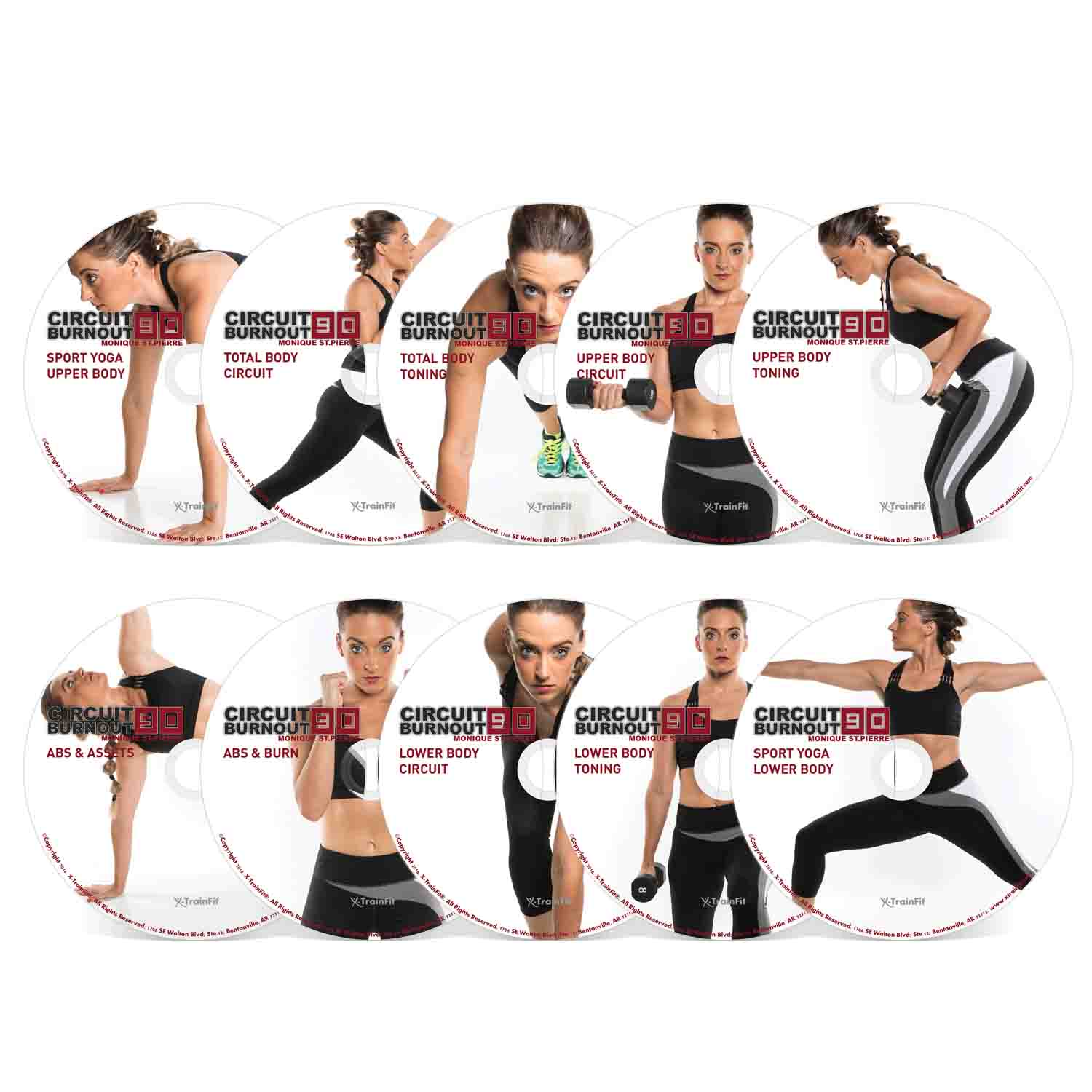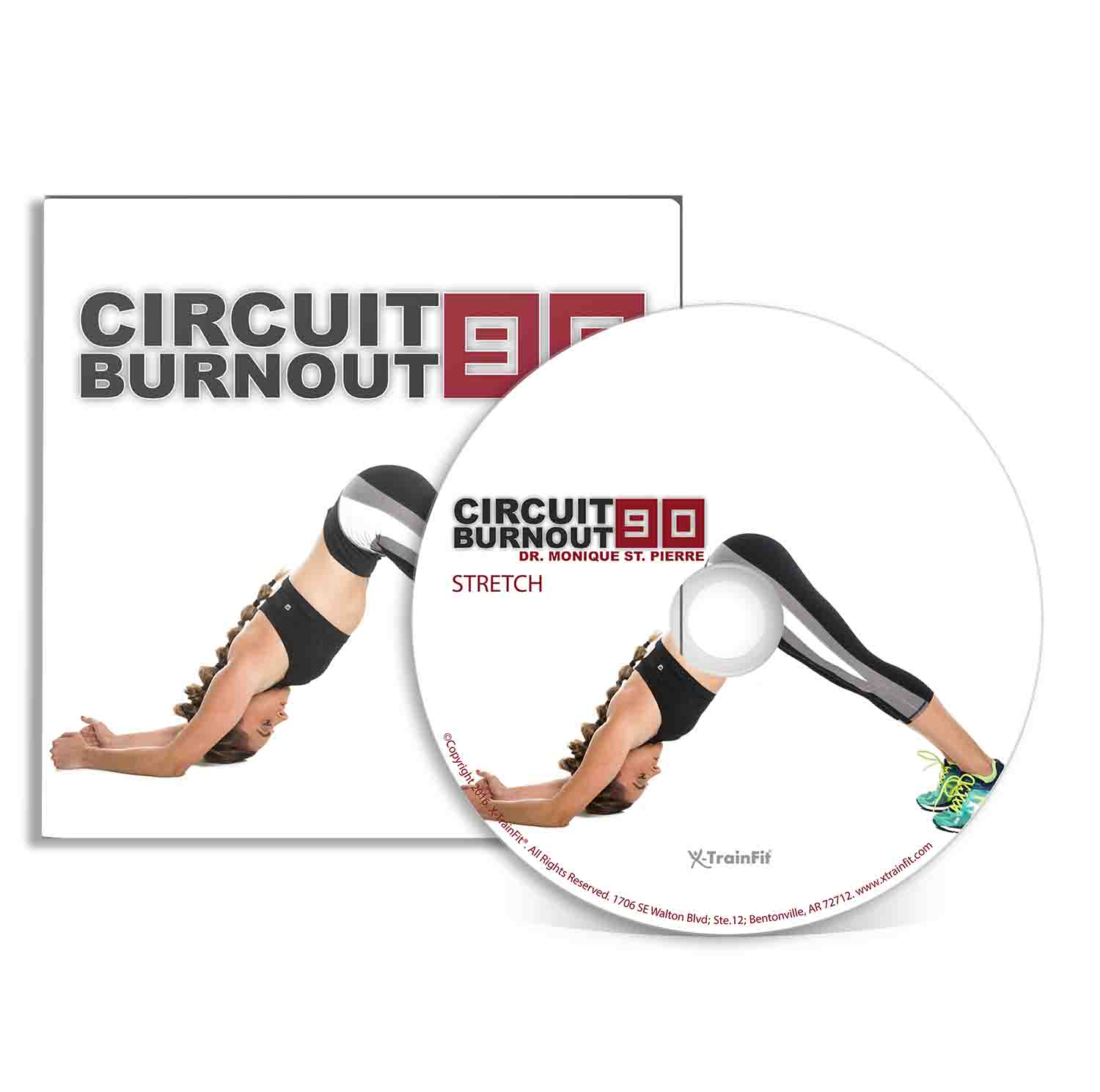 Circuit Burnout 90
---
LOSE WEIGHT AT HOME WITH Dr. Monique St. Pierre
Looking to scorch fat but have limited time each day? Then this 90-day set is just for you! Dr. Monique St. Pierre and X-TrainFit bring you high energy and up-tempo full body workout that shreds fat while toning muscle.
There are 3 types of workouts included in this set, for a total of 10 unique workouts.  These workouts include:
Circuit Workouts - These are workouts that alternate toning and cardio to really get the heart rate elevated to burn fat while also toning the body.  These workouts have different groups of 5 exercises done for 30 seconds each with 10 seconds rest between each exercise.  After 5th exercise, there is a 30-second rest, then the 5 exercises are repeated 1 more time.  
Toning Workouts -  There may be a cardio exercise sprinkled throughout the workouts, but for the most part these workouts focus on building strength and toning muscles.  The workouts consist of 3 groups of exercises done 2 times through with the first two exercises in the group is done for 12 – 15 reps, and 3rd exercise in the group is 30 seconds unless Monique states otherwise in the workout.
Yoga Workouts - There are 2 different Sport Yoga workouts included.  These workouts can be done with or without light dumbbells (1-3 pounds).  These are flow workouts where you go through a series of poses with some twist to make the workout a little more challenging.
BONUS Stretch workout is also included, for a total of 11 workouts in this 90-day program.
The Workouts At A Glance:
Abs & Assets – this workout targets the abdominals and glutes.  Build strength and tighten the two spots a majority of the people find to be their trouble zones in this great toning workout.  Lunge, crunch, plank, and more your way to getting the Abs and ASSets you have always wanted.  

Upper Body Circuit – This cardio and toning workout focus on toning the chest, back, and arms while scorching some serious fat.  Get that heart rate elevated with some power moves while building strength and definition in your biceps, triceps, shoulders, back, and chest muscles. 
Lower Body Circuit – The quadriceps, booty, hamstrings, thighs, and calves all get attention in this workout, while also throwing in some dynamic cardio exercises to further challenge the legs while elevating the heart rate.  This workout will challenge you as you work one of the largest muscle groups in the body to tone and tighten everything below the waist.  
Total Body Toning – This workout really rounds out your strength training by incorporating 2 or more muscle groups for each exercise.  Every muscle is hit in this workout, helping build strength and endurance throughout the body to help get you the body you want to be the best you can be
Sports Yoga Lower Body – Monique takes you through a series of poses, mostly focused on the lower body; however, the entire body will benefit from this workout.  Most poses have an added twist to them in an effort to maximize the challenge and the results.  The weights are optional.  If you don't feel this workout in your legs afterward, you are doing something wrong! 
Lower Body Toning – You will lunge, squat, deadlift, and more your way to a toned and tightened booty, thighs, hamstrings, calves, and quadriceps in this workout.  The 12 different exercises in this workout will help you get those legs you have always wanted.  
Abs & Burn – The title of this workout says it all – we will work the abs while burning away the fat.  There are 20 different exercises in this workout designed to get you the abs you have always wanted while also burning some serious calories with fun cardio moves.
Upper Body Toning – Monique works the entire upper body by building strength in the arms, abs, back, and chest.  You will get the definition you desire in the upper body with the combination of the 12 exercises in this workout
Sports Yoga Upper Body – Similar to the Lower Body Sport Yoga workout, you will go through a series of poses that work the entire body, with an added focus on the upper body.  The light dumbbells are an option that gives you more of a challenge to further rev your metabolism and tone your upper body.
Total Body Circuit – The entire body is targeted in this series of exercises.  Monique utilizes plyometric moves to get the fat burn ignited while challenging the muscles to tighten everything from head to toe.
Also included:
NUTRITION GUIDE - The key to unlocking the power of Circuit Burnout 90 is nutrition. Nutritional management is the most challenging aspect of most programs for many people. The Circuit Burnout 90 Nutrition Plan is designed to ensure you provide your body the fuel it needs to achieve amazing results without going hungry or becoming bored. We have included 36 recipes from Dr. Monique St. Pierre's own kitchen that is fun and tasty, yet easy to prepare.
TRAINING GUIDE - The guide included provides additional insight into the program and the challenges you will face over the next 90 days. Follow up on the guidance and tips provided to maximize results and achieve your goals.
TRAINING CALENDAR - The large training calendar provided can be mounted on a wall in the bathroom, closet, or anywhere else easily accessible. The training schedule outlined on the calendar is designed to guide your workouts over the 90-day program, to maximize results and avoid plateaus in the performance that can frustrate participants in many programs. The schedule of workouts is designed to keep your body guessing as we tear it down and build it back up during the transformation process.
Requires: Dumbbells or Resistance band and stability ball (not included)